Windows Phone 8 debuts on T-Mobile with Nokia Lumia 810
Submitted by Mitra Pathak on Thu, 11/15/2012 - 17:40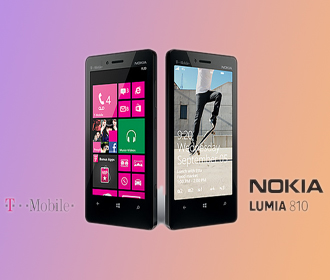 Microsoft's latest mobile OS version, the new Windows Phone 8, makes its debut appearance on T-Mobile, with the $100-priced mid-range handset, the Nokia 810.
The 5.1-ounce Nokia Lumia 810 from T-Mobile is a somewhat hefty handset, though it boasts a notably smooth and fast operating system as well as an extremely powerful camera for any other handset in the mid-price category.
Some of the key features of the Nokia Lumia 810 include a fairly standard-sized 4.3-inch OLED capacitive touch screen; a 1.5GHz Qualcomm Snapdragon S4 dual-core Krait processor; 1GB RAM; 802.11b/g/n Wi-Fi; and NFC.
In addition to the above-mentioned features, the right panel of the Lumia 810 - which is both a quad-band EDGE and dual-band HSPA+ 42 handset - has a volume rocker switch, a camera shortcut button, and a power button. While the top edge of the phone has a regular-size 3.5mm headphone jack; the bottom edge houses a micro USB charger port and two stereo speakers.
The almost clear back panel of the handset features the Nokia logo, along with Carl Zeiss lens, and an LED flash; and it can be switched for different color options, including black, white, gray, red, yellow, cyan, and purple.
With some of the early tests of the Lumia 810 revealing that the handset boasts impressive download and upload speeds of 14-15Mbps and 1-1.5Mbps respectively, the handset can also be used as a mobile hotspot by users who opt for the `Smartphone Mobile Hotspot' data plan offered by T-Mobile.