Wipro's Q1 profit up 29.6 percent
Submitted by Dalbir Sahota on Fri, 07/25/2014 - 22:23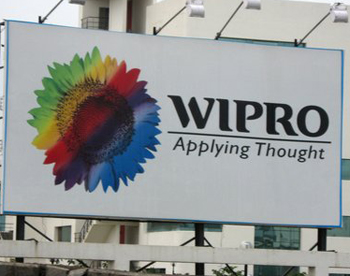 Bangalore, July 25 : India's third-biggest IT services exporter, Wipro Limited , posted fiscal first-quarter profit up 29.6 percent and forecast a surge in revenue on the back of stronger spending on outsourcing by overseas clients.
Bangalore-based Wipro, which inked a 10-year deal to manage IT outsourcing of Canadian energy and utilities firm Atco, said it expected IT services sales in this quarter to grow between 1.7 and 4 percent from the quarter ended June.
IT services revenue in Wipro's fiscal first quarter that ended on June 30 rose 1.2 percent from the previous quarter to USD1.7 billion dollars, as it added 35 new clients.
Consolidated net profit for the quarter grew 29.6 percent from a year earlier to 21.03 billion rupees (USD 349.9 million dollars), slightly below consensus estimates of 21.24 billion rupees.
"The revenue has been 112 billion rupees which is about 16 per cent year-on-year growth and the operating profit is 23.7 billion rupees, which is about 34 per cent year-on-year growth and the net income of 21 billion rupees which is 30 per cent year-on-year growth. If split into sub-components, IT services with 105 billion rupees which is 18 per cent year-on year growth and the operating profit is 24 billion rupees which is 35 per cent year-on-year growth," said Wipro's Chief Financial Officer, Suresh Senapaty.
Total revenue rose 14 percent from a year earlier to 111.4 billion rupees.
Wipro is part of the USD 108 billion dollars-a-year Indian outsourcing sector that generates about 90 percent of its revenue from providing services such as IT network installation and the development of software applications for overseas clients that are looking to raise spending on technology.
"We had a sequential revenue growth of 1.2 per cent in line with our guidance. Our quarterly IT services abet grew by 35 per cent yearly, we continue to make investments to able our customers to better in market place and for improving our execution capability," said Wipro Chief Executive Officer, T. K. Kurien.
Wipro, whose chairman is billionaire Azim Premji , got nearly half of its IT services revenue in the June quarter from the Americas, its biggest export market, and about 30 percent from Europe.
Wipro's bigger Indian rivals Tata Consultancy Services Limited and Infosys Limited said this month they are boosting investment in new technologies.
Wipro shares ended up one percent at 576.85 rupees ahead of the announcement, while the main Mumbai market index closed 0.5 percent higher. The stock is up 3.2 percent so far this year, lagging a 24 percent rise in the broader market. (ANI)