Burmese junta arrests 48 on uprising anniversary eve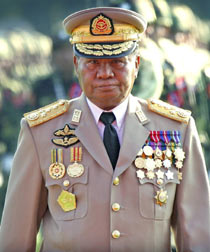 London, Aug. 9 : Burma''s military junta have arrested 48 activists during a protest march marking 20 years since the army crushed a pro-democracy uprising, killing
3,000 people.
According to the police and the militia, a show of force was staged in Burma on the eve of the 20th anniversary of a major uprising that left 3,000 civilians dead.
The demonstrators, mainly young men in T-shirts bearing the numbers 8-8-88 - a reference to the August 8, 1988 nationwide revolt - staged a silent walk through the northwest town of Taunggok before being stopped by a police barricade.
Buddhist monasteries, which were the focal point of pro-democracy protests by monks last year, are also being closely monitored, The Independent reported.
Last night, additional barriers and a fire engine were stationed outside the home of the Nobel laureate, who has been under house arrest for more than 11 of the past 18 years.
The presence of troops on the streets was the only sign of the anniversary inside a country where the population is still struggling to survive in the aftermath of Cyclone Nargis which killed at least 130,000 people in May. (ANI)