2G: No Carrots Offered to Raja, Says Tata
Submitted by Bhuvan Kala on Thu, 08/04/2011 - 23:45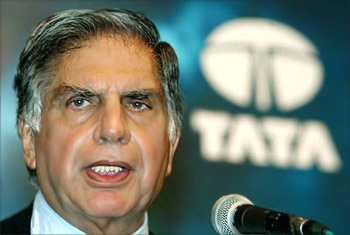 Ratan Tata, the Chairman of Tata Group has refused to buy the contentions by the promoter of Swan Telecom that he had defrayed Rs 20 crore to A Raja, the former Telecom Minister.
In his dialogue at the annual general meeting of Tata Steel on Wednesday, Tata declined the allegations saying that he has not paid any kind of sweeteners to Raja, not even a single penny.
Yesterday, Shahid Balwa, who is currently imprisoned at the Tihar Jail along with A Raja for their respective contributions in the 2G spectrum allocation swindle, alleged that Tata paid a bribe of Rs 20 crore to Raja.
Earlier, Balwa's advocate claimed in a trial that Raja demanded a gift of Rs 20 crore for Perambalur Hospital from the Tata Trust.
To back his comments, he also produced some evidence in the form of letters exchanged between Tata and Raja.
During a hearing, the lawyer also asserted that the Central Bureau of Investigation (CBI) was intentionally not doing enough against Tata. He also claimed that companies were being selectively bombarded by the agency.
The blame game started since CBI granted a clean chit to Tata and Niira Radia, the Chairperson for Vaishnavi Communications, the firm which controls public relations for Tata Group.
Whatever it is, one thing is for sure: the fumes emerging out of 2G spectrum scam has certainly started hovering over the Indian economy.