300,000 couples wed on China's triple-eight Olympic date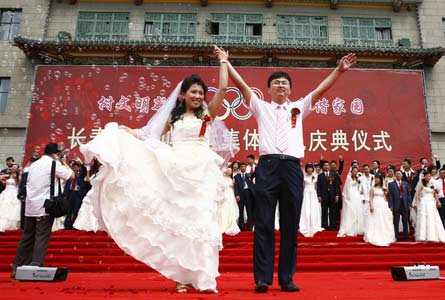 Beijing - More than 300,000 Chinese couples registered marriages Friday as the opening of the Olympics added to the auspicious triple eight in the 8.8.2008 date, state media said on Saturday.
The Ministry of Civil Affairs recorded 314,224 marriages nationwide, the highest number since the People's Republic of China was founded in 1949, the official Xinhua news agency said.
Olympic host city Beijing recorded 15,646 marriages on Friday, 23 times the daily average, the agency said.
The previous record for marriages in a single day in Beijing was 4,452, while 3,390 couples wed on August 8, 2007, one year before the Olympics.
Eight is the luckiest number in China partly because its pronunciation in Cantonese sounds similar to the word for wealth.
Car licence plates and mobile telephone numbers with multiple eights sell for many times the price of those with less appealing combinations.
Local authorities said 6,418 couples wed in Shanghai on Friday and 4,841 in the central city of Wuhan.
The ministry held a special meeting on Tuesday to ask local authorities to take on extra voluntary staff, work longer hours and open more offices to cope with the surge, the agency said.
Some registration offices in Beijing and Tianjin worked around the clock to meet demand, it said.
Beijing's Chaoyang district opened its main marriage registration for the Olympic as soon as the clock passed midnight on Thursday. (dpa)