Accused in 1993 Surat blasts get 20-year imprisonment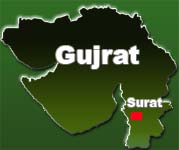 Ahmedabad, Oct 4 : A Terrorist and Disruptive Activities (Prevention) Act (TADA) court in Ahmedabad sentenced five accused of 1993 twin bombings of Surat including a former minister to 20-year imprisonment on Saturday.
In 1993, a bomb exploded in Varachha area on the outskirts of Surat in which a young girl was killed and a grenade was lobbed at a train stationed on a platform leaving 38 injured.
Former State Minister for Fisheries, Mohammad Surti of Congress party along with eleven others, was found guilty in bombings.
Surti along with four others have been sentenced to 20 years in prison and two hundred thousand rupees fine while seven others were awarded ten-year jail term.
"12 out of 13 have been convicted and were acquitted. Iqbal Wadivala, Hussain Ghadaiyali, Mohammad Surti, Mustaq Patel and Yusuf Dadu have been given 20-year imprisonment. Rest of them have been given ten-year imprisonment," said Hasmunkh Bhai Lalwala, Public Prosecutor.
Meanwhile defence lawyer Vasant Surti said the accused were being charged for lobbing bombs in revenge of killing of Muslims during the communal riots in the state.
He added that any act, which is done to take revenge, does not come under TADA.
"Government itself said at that time bomb was exploded in order to take revenge. The acts that are undertaken to take revenge do not come under TADA, and we believe that. So we will challenge this decision in the Supreme Court," said Surti.
As per police, the blasts had taken place in January 1993 to avenge the destruction of an ancient mosque Babri Mazjid by Hindu zealots in 1992 and subsequent Hindu-Muslim riots across the country.
Grenade blast had rocked Surat a month after the country''s deadliest bomb attack that killed 257 people in Mumbai. Police said India''s most wanted man, underworld don Dawood Ibrahim ordered the bombings. (ANI)