After 1829, two US churches seek to end racial divide in Washington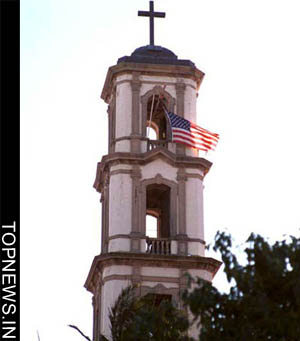 Washington, Jan. 19 : Two Methodist churches, which have stood on the same block on Capitol Hill for close to two centuries -- one congregation black and the other white, will create history on Tuesday, when they open their doors for the first time to all communities, ending decades of racial segregation.
The Capitol Hill United Methodist Church meant till now for white Americans, and the Little Ebenezer Methodist Church for African Americans, will seek to bridge centuries of misunderstanding once gain this week. In the past, both institutions have faltered and drifted back.
This week, they will throw open their doors together to those celebrating the inauguration of America's first black president.
"We did not choose but it was chosen for us that we would come together at this moment," said the New York Times quoted Reverend Alisa Lasater, the pastor of Capitol Hill United Methodist Church, as saying.
Once, these two churches were one. In 1829, however, the white members of Ebenezer Methodist Church cast out their black brethren, saying "You tap your feet too insistently, and sing too loudly. So the blacks walked around the corner and founded Little Ebenezer Church.
Each Ebenezer thrived. Middle-class whites drawn by a prosperous capital crowded into their church, and 1,200 blacks filled the other, the balconies creaking beneath the weight of worshipers.
The white Ebenezer — known today as Capitol Hill United Methodist — now has about 150 members, mostly liberal young people who work on the Hill. At Ebenezer, about 60 elderly blacks attend services; its funerals greatly outnumber weddings.
The churches — Capitol Hill United was rebuilt on its original site in 1964, and Ebenezer is a cavernous late-19th-century church with luminous stained glass windows — sit on a well-heeled block on Capitol Hill, a place of brick row houses with wrought iron fences.
"Our congregations have existed almost back to back on the same block for well over a century, and we still struggle to talk," the paper quotes Dottie Yunger, a divinity student who has worked with the congregations, as saying. (ANI)