Amarinder Meets Virk In Hospital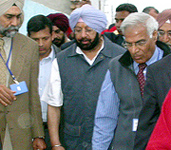 Chandigarh: After visiting former director general of police S.S. Virk at the PGI on Monday, Punjab former chief minister Capt Amarinder Singh said, "You name one officer who does not have cats. Cats are working in every state, be it Punjab, Tripura or Mizoram. No anti-terrorist operation can be completed without cats."
Virk has been transferred to a private ward; in D-block on the 5th floor of Nehru Hospital and Mr. Amarinder spend 35 minutes with Mr. Virk.
"Accusing a police officer of keeping cats and that too an officer of Virk's stature is quite sad on the part of the present government," Amarinder said.
Amid highly dramatic event, Mr. Amarinder and his followers reached Virk's private ward through a lift, running from the dental section. Without any objection from any of the policemen standing outside Virk's room, Amarinder at once went inside the room and spend about 35 minutes. During this time, Virk's lawyers were also called up to his room.
Afterward, talking to media-persons, Amarinder stated, "Badal and his son are liars if they say they don't know that an IG-level officer, Sumedh Singh Saini, had ordered the arrest of a serving DGP and sent his team to Delhi for arresting Virk. Virk is an honest officer and has remained my DGP for two years. I stand by him. Now the Vigilance says that Virk has amassed wealth and assets disproportionate to his known sources of income. If a man bought land worth Rs 10 lakh, the price of which has touched Rs 3-4 crore now, how can you call him corrupt? If this is the criteria, then entire Punjab is corrupt."
While resolving questions about SSP Surinder Pal Singh and DGP Virk's closeness with Capt. Amarinder Singh during his tenure as Punjab chief minister, he responded, "This trend of implicating IAS and IPS officers by the government is nothing but political vendetta. Virk is just paying the price for being my DGP. What else is this — nothing but political vendetta? Surinder Pal Singh was the investigating officer in cases against the Badals; now he is just doing his duty. If he is being targeted for doing his duty, it is nothing but political vengeance."
After speaking to media and patiently replying everybody's doubts, Amarinder came to the ground floor in the lift intended for PGI staff. At the ground floor, on his way out, he contacted PGI director Dr K.K. Talwar, who briefed him about Virk's situation.
"I hope he was given SOS treatment and is in perfect shape now," Amarinder was heard asking Dr. Talwar.