Amazon offering discount on Wi-Fi and 4G LTE versions of 8.9-inch Kindle Fire HD
Submitted by Mitra Pathak on Wed, 02/06/2013 - 19:58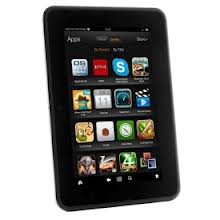 Announcing yet another discount on its 8.9-inch Kindle Fire HD tablet, online retail biggie Amazon has recently revealed that it is cutting $30 from the cost of the Wi-Fi model of the tablet, and $50 from the 4G LTE version's price-tag.
The markdown being offered by Amazon on the price of 8.9-inch Kindle Fire HD implies that the Wi-Fi version of the tablet will now cost $269 instead of $299; while the 4G LTE model will come down from $499 to $449.
Despite the fact that the discount offer is not applicable to other Kindle e-reader models - including the Paperwhite and Paperwhite 3G -, Amazon's devices are still quite affordably priced even at their full cost. While the 7-inch Wi-Fi version of Kindle Fire HD, with 16GB or 32GB of storage, is priced at just $199; the original Kindle Fire, with new features like X-Ray and Kindle FreeTime, costs only $159.
About the discount offer on the Wi-Fi and 4G LTE versions of the 8.9-inch Kindle Fire HD, Amazon said that customers can avail the discount on both the models by entering the phrase "FIRELOVE" at checkout, from now till February 8. However, the offer is limited to only one tablet per customer.
With the discount offer coming just a few days ahead of Valentine's Day, an Amazon news release has hinted at Skyping with the Kindle Fire HD's front-facing camera; carrying the new Kindle Paperwhite on a romantic vacation, and gifting a romantic novel or album via the Kindle Store!