Ambika Soni slams Kerala for 'guiding' government news
Submitted by Hardeep Sidhu on Thu, 11/05/2009 - 22:54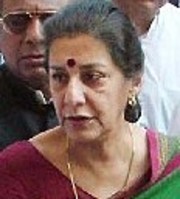 New Delhi, Nov 5 : Information and Broadcasting Minister Ambika Soni Thursday termed as a "gross violation of the constitution" the Kerala government guidelines to departments regarding interaction with the media.
Reacting to media reports, Soni said: "We consider it as a gross violation of the Article 19 of the Constitution, which enshrines the freedom of expression."
Media reports said the Left Democratic Front government in Kerala has given directive to various departments not to give information directly to the media and it should be disseminated through the state public relations department.
"The United Progressive Alliance (UPA) government and Prime Minister Manmohan Singh have always upheld the freedom of the fourth estate," Soni told reporters here.
Denying the reports, the state government said the move was to ensure a "flawless flow" of news of the government's activities.(IANS)