Amity, Saket, wins over the world with MUN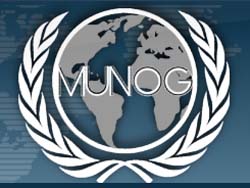 Amity International School, Saket participated in MUNOG 09 (Model United Nations of Goldberg, Stuttgart, Germany). They sent a team of four students — Rajat Rai Handa, Sukriti Singal, Agrim Singh and Arjun Hans.
As many as 210 participants from 12 countries took part.
Rajat Rai Handa has done the nation proud by winning the best delegate award for representing People's Republic of China. He was awarded a certificate of recognition and a prize. Amity team was the proud recipient of the Best Country Delegation award.
Under the guidance of Chairperson Dr. (Mrs.) Amita Chauhan, students were successful in developing knowledge and understanding among the youth. Principal Bharati Sharma congratulated the participants.
Convent of Jesus and Mary, Bangla Sahib Marg organised a cultural programme, Kaleidoscope XVIII 2009, to mark Children's Day.
Retired Chief Justice Leila Seth along with Principal Sister Janet inaugurated the event. Students sung hymns and recited Hindi poems followed by a small prayer. They also performed folk dances. Students of class V presented a song, 'We are the children of the World'.
Sanskriti School, Chanakyapuri celebrated its cultural evening, 'Rhythms of India'. Principal, Abha Sahgal welcomed the chief guest, Anupam Kher, and Chairperson of Sanskriti School Jaya Chandrasekhar.
The evening commenced with a musical salute to India by the school choir, who sang 'Bharat Janani Jai'.
The event comprised dances from various states. Kaikottikali from Kerala, Bihu from Assam, Koli from Maharashtra, Kalbeliya from Rajasthan, etc.