Asus unveils Windows 8-based 10.1-inch VivoTab tablet
Submitted by Darpana Kutty on Thu, 01/24/2013 - 17:56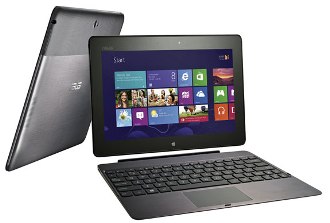 In a recent announcement, Taiwanese manufacturer Asus has unveiled its new 10.1-inch tablet - dubbed the VivoTab - which runs Microsoft's latest Windows 8 operating system.
According to Asus, the £399-priced VivoTab is scheduled to hit the stores on January 31; and will be boast the full-blown desktop version of the Windows 8 OS - like Microsoft's Surface Pro tablet - rather than the reduced Windows
8 RT version that comes aboard the Surface, the Samsung Ativ Tab and other competing tablets.
Some of the most impressive features of the Asus VivoTab will include a 10.1-inch HD LED screen offering 1366 X 768 HD resolutions; 1.8GHz dual-core Intel processor; 2GB RAM, 64GB built-in storage capacity; a 2-megapixel front camera; and an 8-megapixel rear camera with five-element lens, auto-focus, and 1080p Full HD video recording.
As per the details shared by Asus, the VivoTab's 178-degree wide view angle - thanks to IPS technology - will facilitate the delivery of sharp and clear images; with a 5-point multi-touch to operate the Windows 8 OS.
The 9.7mm Asus VivoTab will also be compatible with a physical keyboard attachment - the TranSleeve Keyboard - which be separately priced at an additional £90; and will serve the dual purpose of a protective cover and a stand for the tablet.