Bhutto's killing deepens negative perceptions about Pakistani-Americans: LA survey
San Francisco, Jan 16: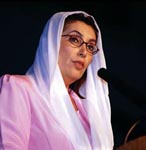 A survey conducted by Los Angeles Times has revealed that most Americans of Pakistani descent feared that the recent happenings in Pakistan, including the assassination of Benazir Bhutto, crackdown on Opposition parties and the general political chaos, had further deepened the negative impression about Pakistanis in the US.
It was found that after these incidents, while some Americans perceived that Pakistan was a country where Al Qaeda chief Osama bin Laden lived, others thought Pakistan was a militant Arabic-speaking Mideast country.
The Pakistani-Americans who were interviewed during the survey said that these incidents had damaged the reputation of Pakistanis, who were already reeling under negative image after the fallout of 9/11 air attacks on the US.
"Ms Bhutto's assassination has furthered perceptions of Pakistan as a nation dominated by extremists," LA Times quoted the survey report as saying.
It quoted Anam Syed, a 21-year-old UC Riverside student, as saying: "There was widespread ignorance about Pakistan among some Americans who erroneously believe it is a militant, Arabic-speaking Mideast country."
Similarly, LA quoted Hasan Shirazi, a Los Angeles banker, as saying that it was bad enough a few years ago when he went to volunteer in a Compton elementary school classroom and asked the students what they knew about Pakistan. He was startled when one student responded: "That's where Osama bin Laden is living." And now the situation has deepened this perception, Shirazi said.
The survey, conducted on the basis of 2000 Census, found that Californians of Pakistani descent numbered about 28,000, double the population of 1990. Community members say the figure now surpasses 40,000.
The data showed that 56 per cent had undergraduate or graduate degrees, the second-highest rate after Indian-Americans among 16 Asian subgroups examined. Nearly half were home-owners, with the median household income about $49,000, on par with the state-wide average. Two-thirds were immigrants, with a 46 per cent naturalisation rate, and the majority were fluent English speakers. (ANI)