BJP demands withdrawal of 'Hindu terror' remark, apology from Shinde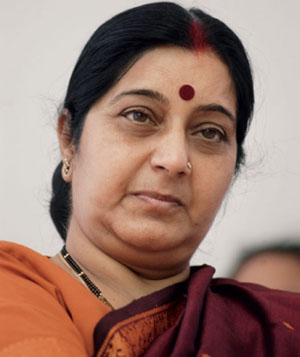 New Delhi, Feb 20 : The Bharatiya Janata Party (BJP) on Wednesday said the Union Home Minister Sushil Kumar Shinde will have to withdraw his controversial `Hindu terror' remark and apologise, if the government wants Parliament to function smoothly during the Budget Session starting tomorrow.
Leader of opposition in Lok Sabha, Sushma Swaraj said the BJP too wants the house to function properly, but it will be possible only after the issue of Shinde's remark will be resolved.
"We want the house to function properly because it is the Budget Session and we too want discussion on various issues this session. But, the speaker of the Lok Sabha will have to first address the issue of Home Minister's remarks," said Swaraj after attending the all-party meeting called by Lok Sabha Speaker Meira Kumar.
"We asked the speaker to first resolve the matter, because the Home Minister of this country, who is eventually the leader of the house, has alleged us of running terror cams and promoting terror in the country. If the BJP is a terrorist organisation and we are running terror cams, we have no right to seat in the house, and the home minister should take action against us like terrorists," said Swaraj.
"Shinde will have to withdraw his comment and apologise to the nation," she added.
She further stated that the BJP wants to raise the crucial issues including the recent chopper deal scam, drought situation in Maharashtra, fuel price hike, ceasefire violation and mutilation of our soldiers at LoC, and Chinese influence alongside the border areas in the session, but the speaker will have to resolve the above said matter first for smooth functioning of the house.
Shinde had made the controversial remark on the final day of the Congress Party's Chintan Shivir in Jaipur. He had accused the BJP and Rashtriya Swayamsevak Sangh (RSS) of holding terror-training camps and promoting "Hindu terrorism" in the country. (ANI)