BJP MP Moghe Disqualified For Holding Office Of Profit
Submitted by Manpreet Dhillon on Sat, 07/14/2007 - 02:22
New Delhi: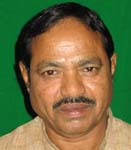 BJP MP Krishan Murari Moghe has been disqualified from the Lok Sabha for the reason that he held an office of profit by holding a position with the grade of cabinet minister in Madhya Pradesh.
The sources said that the President Dr. A.P.J. Abdul Kalam has supported the opinion of the Election Commission in this regard.
The Commission had sent its judgment to the President last month, commending the Moghe's disqualification.
Under the Constitution provisions, Kalam had earlier referred to the poll panel a petition seeking the disqualification of Moghe, the MP representing Khargone constituency in Madhya Pradesh.
Congress MLA Jamuna Devi, who had requested the President, said that Moghe was holding an office of profit in his faculty as head of the state parliamentary group with cabinet minister's rank.
With his ineligibility, Moghe will not be qualified to implement his authorization in the resulting presidential poll.
At the moment, the BJP has lost the vote of an MP for the July 19 Presidential poll.
Technology Sector