BJP says SC decision on tainted minister according to idea propounded by PM Modi
Submitted by Sarthak Gupta on Wed, 08/27/2014 - 20:41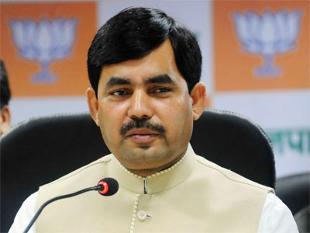 Bangalore, Aug 27 : The Bharatiya Janata Party (BJP) on Wednesday appeared to pat itself over the Supreme Court's verdict that people against whom criminal and corruption charges have been framed be not inducted as ministers.
He said that the apex court was taking an idea put forward by Prime Minister Narendra Modi.
Speaking to the media, BJP leader Shahnawaz Hussain said, "Prime Minister Narendra Modi had indicated the same earlier, the Supreme Court's verdict is according to the same lines. After conviction, no one has the right to stay in power. If there are charges slapped on someone, then people start talking about that. Therefore, the Prime Minister had earlier voiced his opinion for winding up such cases."
"There is a law also that a convicted person cannot become a minister let alone becoming a lawmaker . .... The cases should be solved speedily for those who are facing charges against them so that they get justice and there is no confusion about that lawmaker in the society," he added.
Meanwhile, Madhya Pradesh Chief Minister Shivraj Singh Chouhan said it is not correct to include those tainted in the government.
"We have been telling it long ago that it is not correct to include anyone tainted (in the government) and we have been following it," he said.
The apex court, which pronounced the verdict, was hearing a plea on whether ministers with criminal cases against them can continue to be a part of the government.
A five bench judge headed by Chief Justice of India R. M. Lodha delivered the verdict, saying that it was the prerogative of the Prime Minister and Chief Ministers to do so.
The Prime Minister had earlier during his speech in the Rajya Sabha in June reportedly appealed for a Parliament that needed to be made free of tainted members and added that decisions in all cases against parliamentarians should come within one year. (ANI)