British Columbia Premier to promote life science, education in India
Submitted by Sahil Nagpal on Thu, 11/29/2007 - 16:24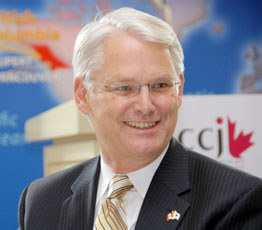 New Delhi, Nov 29: British Columbia Premier Gordon Campbell will seek to promote his region's expertise in green technology and life sciences, as well as opportunities in trade, education and investment when he leads a mission to India from December 1 to 7.
"British Columbia has expertise in the development of innovative, green technology and there are opportunities in India, which has a rapidly growing economy and is looking for ways to expand that are environmentally sustainable," said Campbell ahead of his visit.
"We have an incredible opportunity to make connections that will benefit British Columbia and the world, both economically and environmentally," he added.
British Columbia launched its Asia Pacific Initiative in April, setting out a long-term strategy to increase and diversify the province's economic and cultural ties with the Asia-Pacific.
"This mission is a chance to spread the word to potential investors about B.C.'s competitive advantage as Canada's Pacific Gateway and the opportunities here for partnerships in green technology, trade, investment and education," said Campbell.
The mission will see Premier Campbell visit China, followed by New Delhi, Chandigarh, Mumbai and Bengaluru.
Notable events planned for the mission include:
·Highlighting B.C.'s innovation, research and education connections between educational institutions and industry, particularly in life sciences and biotechnology, to officials in government, post-secondary institutions and business in India;
·Launching a new initiative to connect with alumni of B.C. post-secondary institutions living abroad, and promoting education opportunities between B.C. and India with post-secondary representatives;
·Promoting life sciences opportunities, trade and investment at meetings of business leaders in Mumbai and Bengaluru; and
·Positioning B.C. as a key gateway destination for Asia Pacific-based airlines.
·India is the 10th largest export market for B.C. products. India was the second highest source for immigrants settling in British Columbia in 2006, with just under 6,000 immigrants; approximately 28 per cent of tourists from India to Canada entered through B.C. in 2006. In the 2001 census, more than 121,000 British Columbians identified Punjabi as their first language, compared to 110,000 in Ontario.
This is Campbell's fourth mission to Asia. He last visited India in 2003. (ANI)
Technology Sector