Buy Deepak Fertilisers & Petrochemicals With Target Of Rs 228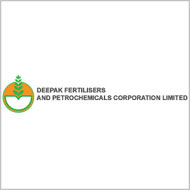 Deepak Fertilisers & Petrochemicals (DFPCL) Q1FY12 results were slightly better than our expectations as net sales increased by 35.2%YoY to Rs4.7bn (PINCe Rs4.5bn) mainly driven by strong performance from chemical segment. However, OPM declined by 253bps to 23.8% due to higher raw material cost. Consequently, adj. net profit increased by 22.5% to Rs639mn (PINCe Rs596mn).
Robust volume growth in chemical segment: Revenue from Chemical business increased by 43.9% to Rs3.3bn mainly led by strong volume growth from TAN and Methanol coupled with strong realisations. Revenue from fertiliser's increased by 14.5% to Rs1.5bn mainly led by higher realisation.
Contraction in chemical margins: Chemical's PBIT margins were lower at 28.4% (-527bps YoY) due to comparatively lower margin on its new TAN facility. DFPCL outsources ammonia for its new facility whereas uses self produced ammonia for its older plants. Gas cost has also increased YoY due to higher cost of APM gas.
Production commenced from new TAN facility: New TAN facility of 3lac MT has become operational in Q4FY11 at Taloja. It reported a production of 33,224MT (capacity utilisation-44%) in the current quarter. Management expects it to contribute ~1.6lac MT in FY12.
Ongoing capex: New Nitric acid plant (capacity-46k MT) to get commissioned by Q2FY12 (capex Rs250mn). Contribution from 'Ishanya' mall remained -ve due to lower occupancy and ongoing restructuring. DFPCL has planned a capex of Rs540mn by FY12 towards restructuring of Ishanya (Rs300mn is expensed in FY11).
VALUATIONS AND RECOMMENDATION We maintain our earning estimates for FY12 and FY13. We are positive on DFPCL in light of expansion of its TAN capacity and positive growth outlook for fertilisers business. At the CMP of Rs160, DFPCL is trading at a PER of 6.3x & 5.5x and EV/EBITDA of 3.7x & 3.0x for FY12E & FY13E respectively. We maintain our 'BUY' recommendation with a target price of Rs228 (4x FY13E EV/EBITDA).