Carles Puyol says goodbye to FC Barcelona
Submitted by Sukhdeep Grewal on Fri, 05/16/2014 - 12:05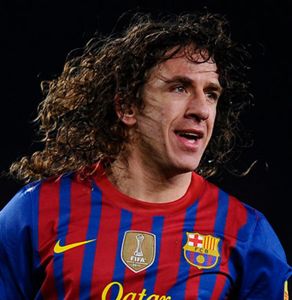 Barcelona, May 16 - FC Barcelona's veteran captain Carles Puyol Thursday said goodbye to FC Barcelona after 15 years, a decision that had been previously announced March 4.
Puyol held a press conference Thursday where he received words of praise and admiration from his colleagues, ex-colleagues, presidents and ex-presidents, coaches and other figures from the world of football, Xinhua reported.
Puyol said he wanted to recover. "This year with the physical problems I have had I barely played and it is going to be something difficult to do in the future."
"I have lived the dream of millions of children, I have been lucky because I've been doing what I liked for 19 years," he was quoted as saying.
Puyol was grateful to all the staff of Barcelona. He mentioned those people who had marked his career but passed away such as his father, Tito Vilanova, Luis Aragones, Miki Roque and Antonio Oliveras.
"I have given it all for Barcelona and football and that is the way I would like to be remembered," he said.
Puyol had a contract with Barcelona until 2016 but decided to rescind it due to his physical problems. "After the two aggressive operations I have needed", he said in March when announcing he was leaving, "it has been very hard for me to recover the level I demand of myself to continue here".
The 36-year-old has played 392 times in La Liga with FC Barcelona's first team and 100 times for Spain. He has won six league titles, three Champions Leagues, two Copas del Rey, six Spanish Supercups and two European Supercups.(IANS)
Technology Sector