Change your destiny, vote for development: PM Modi
Submitted by Hardeep Sidhu on Sat, 10/11/2014 - 23:50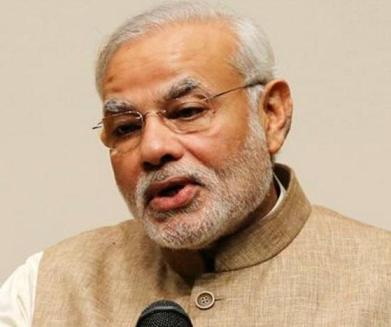 Gurgaon, Oct 11 : Describing Gurgaon as 'Mini India' Prime Minister Narendra Modi on Saturday asked the people to vote for the BJP and shun those families that have monopolised power in Haryana.
Addressing an election rally here, Prime Minister Modi asked the electorate to teach those families a lesson by using their finger comparing its power with that of mythical Hindu god Lord Krishna's 'Sudarshan Chakra'.
"This government is not being able to give you water, electricity, opportunities for youth and security for women. There can't be a bigger chance than 15th October to change your destiny. Lord Krishna had 'Sudarshan Chakra' on his finger, your finger has the same power," he said.
Prime Minister Modi lashed out at the Congress government and Om Prakash Chautala-led INLD for running the state like a 'family fiefdom' and said that a BJP regime would propel the state on the path of development.
"Many experts and surveys are saying the BJP will get a majority. Some are saying the BJP will fall short by a few seats. So, they are unanimous that we will form the government," Prime Minister Modi said.
"My brothers and sisters, I request you not to elect a government which will depend on others. Otherwise, what is required for the state will be looted by those who will come to help us," he added.
The Prime Minister further said there is neither shortage of money nor hard working people in Gurgaon.
" Gurgaon is like a mini-India, it has the capability to be counted among one of the developed cities. Give us a chance to make your dreams come true and we will change the situation within five years," he added while expressing confidence that the BJP will get a full majority in Haryana.
The election for 90-member Haryana Assembly is scheduled to take place on October 15 while the counting of votes will be held on October 19. (ANI)
Technology Sector