Clash Between Dera Followers and Sikhs
Mansa: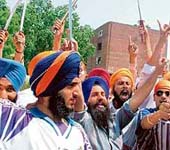 Over a dozen of people were injured in bloody clashes between Sikhs and Dera followers in village Alampur Mundra on Sunday and Monday. 'Naam Charcha', Dera's religious preach, resulted in dispute between the two groups that indulged in use of swords, throwing of acid, and stone pelting.
On Sunday, Lily Kumar, a district level committee member of Dera and resident of Village Alampur Mundra, wanted to hold 'naam charcha' at his place, but Sikh representative opposed it and expressed their dislike on Gurudwara's speaker. Sikhs tried to disrupt the 'naam charcha, which resulted in stone pelting. In evening, some Sikhs vandalized the house of Lily Kumar, injuring followers.
Another fight between the two groups broke out when some Dera followers approached Lily's place to inquire about the incident and to hold 'naam charcha,' on Monday morning. Reportedly, Sikh representatives destroyed some material lying in the house. Both groups accused each other of throwing acid on the members of opposite group.
'Ek Noor Khalsa Fauj' members staged dharna demanding strict action against Dear followers. DC Surjit Singh Dhillon and SSP Ram Singh visited Lily Kumar's house and pacified the agitators. SSP told cases have been registered and the police force is taking action as per law and the guilty will not be spared. A heavy police force has been positioned in the village.