Congress leader Modhwadia pulls up Modi for raising Narmada river, gas pricing issues with PM
Submitted by Sarthak Gupta on Wed, 02/06/2013 - 18:08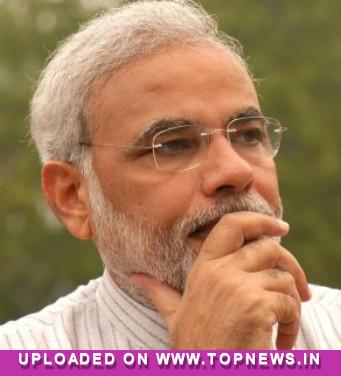 Ahmedabad, Feb. 6 : Gujarat Congress President Arjun Modhwadia on
Wednesday lashed out at Chief Minister Narendra Modi for raising issues
such as Narmada river and gas pricing with Prime Minister Dr. Manmohan
Singh, and said playing politics and doing nothing in this regard has
been the catch phrase of the ruling Bharatiya Janata Party (BJP)
Government in the state.
Modhwadia said chief ministers of every
state could meet the Prime Minister and hold discussions with him on
their respective states.
"But Modiji''s talks with regard to the
Narmada programme-today, there is full water in the Narmada river, and
there is so much water that can be given to 18 lakh hectares of land.
But only 15 percent of work of the
80,000 kilometer canal network, which is to be built, has been completed in 18 years of BJP rule," said Modhwadia.
"And,
it does not requite the help of the Government of India, but despite
that the Government of India has given Rs. 6,000 crores for this
project. Moreover, no other permission is required. But playing politics
in the name of the Narmada river and doing nothing in this regard has
been the catch phrase of the Narendra Modi Government," he added.
Modhwadia
further said ''40 percent of India''s total gas in being given to
Gujarat, but despite that this government plays politics on the issue''.
"Gujarat
Government does not oppose the move of the private companies here to
increase the prices of gas, but it charges 15 percent tax on the cheap
has available. So, it should work at domestic level first and then talk
of gas," said Modhwadia.
"Moreover, the Prime Minister and the
UPA Government have always helped Gujarat. Rajiv Gandhi when he was the
Prime Minister helped Gujarat to get the maximum gas," he added.
Modi,
who met the Prime Minister at his official 7, Race Course Road (RCR)
residence in the national capital earlier in the day, flagged the issue
of building a sluice gate on the Sardar Sarovar dam on Narmada river and
requested him that clearance should be given to the long- pending
project as early as possible.
The Gujarat Chief Minister also
expressed his unhappiness over the Centre''s refusal to provide gas to
the state at the same price at which it is given to Mumbai and Delhi.
"I
came to meet the Prime Minister for the first time after the formation
of new government. I had a long discussion with the Prime Minister. The
meeting was very cordial and I discussed several pending projects with
the Prime Minister. The Prime Minister has assured of help and
cooperation for development in Gujarat," Modi told media outside the
Prime Minister''s residence.
"I also discussed gas prices and the
Narmada irrigation project with him. The Prime Minister congratulated
me for my new government. I also brought up the issue of Sardar Sarovar
dam," he added.
This was Modi''s first meeting with the Prime
Minister after being sworn-in as the Gujarat Chief Minister for a third
consecutive term in December last year. (ANI)
Technology Sector