Congress-DMK talks fail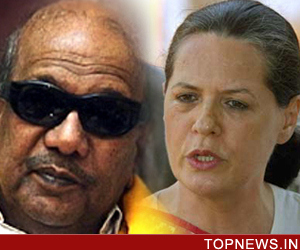 New Delhi, May 21: The Dravida Munnetra Kazhagam (DMK) today announced that it would now give outside support to the United Progressive Alliance (UPA) Government after talks failed on the issue of ministerial berths in the Cabinet.
"Congress' proposal is not acceptable to us. There was no formula on establishment of government in 2004. The DMK has decided to offer support to the Congress from outside," senior DMK leader T. R. Balu told reporters here.
According to sources, Congress' refusal to hand over the crucial Telecom and infrastructure related portfolios to the DMK was the stumbling block.
Earlier, stuck by 'berth' pangs, the Congress was grappling with other allies like the Trinamool Congress (TC) who were doing hard negotiations to get plum portfolios as Manmohan Singh gets ready to be sworn in on Friday for a second consecutive term as Prime Minister.
On a day of conflicting reports, the DMK with 18 MPs, the third largest constituent in the UPA coalition, was said to be demanding three Cabinet portfolios, two Ministers of State with independent charge and two at the Ministers of State level.
DMK chief Karunanidhi''s son M K Azhagiri, his grand nephew Dayanidhi Maran and T R Baalu are among the Cabinet probables from the party while his daughter Kanimozhi is among the likely candidates for the MOS slot.
Reports said the Congress was keen to give two Cabinet berths, four MOS slots including two with independent charge. Mediators were trying to work out the final modalities of an agreement. (ANI)