Countering Modi, Mamata propounds 'Bengal model of development'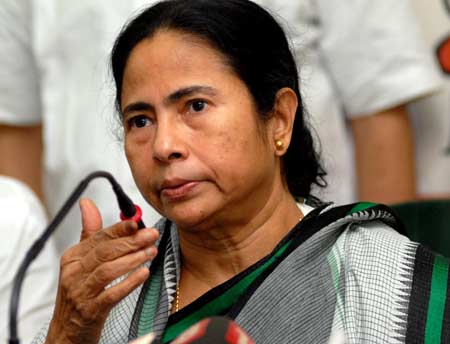 Kolkata, April 5 : Countering the BJP's "Gujarat model of development", West Bengal Chief Minister Mamata Banerjee Saturday propounded the "Bengal model of development" asserting the western state lagged behind on several parameters.
Banerjee - also the Trinamool Congress supremo - expressed her displeasure over the comparison between Bengal and the Narendra Modi governed Gujarat.
She claimed her government has achieved a lot on the development front despite inheriting a debt burden of over Rs. two lakh crore from the erstwhile Left Front government.
"In some circles, the Gujarat development model is talked about.  Despite being at a disadvantageous position, Bengal leads Gujarat in several vital parameters," said Banerjee on her official Facebook page.
Making a comparative study, she said the infant mortality rate and maternal mortality rate in Bengal was 32 and 145 respectively as against 41 and 148 in Gujarat.
She also said the school dropout rate (class 1-5) in Gujarat was 25.6 which is 5.1 percent higher than that in Bengal.
The chief minister also claimed her state achieved an "all-India record" in revenue collection growth at 31.55 percent, while the western state lagged far behind at 15.77 percent.
"From restoring peace in trouble-torn Junglemahal - the Maoist affected areas of the state - and Darjeeling hills, to focusing on providing food, housing, drinking water etc, our performance record speaks for itself.
"Our Jangalmahal approach has been accepted as a model in the country.  That is what is called Bengal model of development," added Banerjee. (IANS)