DA case: Jayalalithaa walks out of Bangalore Central Jail
Submitted by Hardeep Sidhu on Sat, 10/18/2014 - 19:46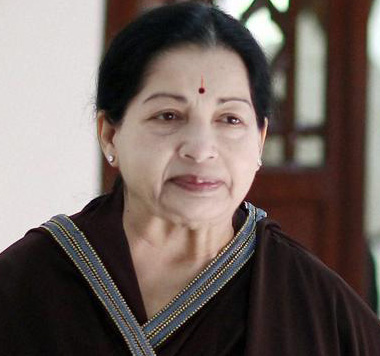 Bangalore, Oct 18 : Former Tamil Nadu chief minister and AIADMK supremo J Jayalalithaa was released from the Bangalore Central Jail on Saturday a day after the Supreme Court granted her interim bail on medical grounds in the disproportionate assets case.
Meanwhile, the AIADMK supporters erupted in joy as soon as the AIADMK chief walked out of the Bangalore Central Jail amid tight security arrangements. She was received by top AIADMK leaders including Chief Minister O. Panneerselvam.
The Bangalore Police had imposed restriction on the movement of people under Section 144 in one kilometre radius around the Central Jail ahead of the release of Jayalalithaa, who was languishing in jail for the past three weeks after being held guilty in a disproportionate assets case.
"We have imposed prohibitory orders in and around the prison area so that there is no untoward incident; there is no gathering of people. We have deployed large number of policemen both civil and armed as well as traffic not only in and around this area, but also along the Hosur road and along the route that we expect her to take to the airport," Bangalore Police Commissioner M. N. Reddy told the media earlier today.
Many supporters of Jayalalithaa had gathered around the jail since yesterday.
Jayalalithaa, who was denied bail by the Karnataka High Court following her conviction in the graft case, had moved the Supreme Court for bail on October 9.
The AIADMK chief had challenged the Karnataka High Court's decision to deny her bail.
Jayalalithaa had pleaded that she be given immediate relief as she was suffering from various health-related ailments.
A petition has also been moved in the Supreme Court seeking a direction to shift Jayalalithaa from Bangalore to the Chennai Central Prison. (ANI)