Delhi court grants bail to former telecom minister A Raja
Submitted by Neha Malik on Tue, 05/15/2012 - 23:20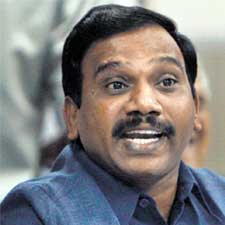 A court in Delhi has granted bail to former telecom minister A Raja after more than 15 months of his arrest in the 2G spectrum case.
Special CBI Judge O P Saini said that the bail application of A raja has been accepted. The bail comes as the court accepted the application on a personal bond of Rs 20 lakh and two sureties of the same amount.
He has been restricted to visit Tail Nadu without the court's permission and has also been barred from visiting the office of the Department of Telecom (DoT). Raja was arrested on February 2, 2011 on charges of misapplications in the 2G spectrum allocation.
The Supreme Court of India has scrapped the validity of all 122 spectrum licenses that were granted to telecom firms during the former communications minister A Raja's time in office.
The court cancelled all the licenses on the ground they were issued in a "totally arbitrary and unconstitutional" manner. It also imposed a fine on three telecom companies that offloaded their shares after getting the licenses.
The DMK has welcomed the decision and expressed hope that Mr. Raja will prove his innocence after he comes out of jail.