'Dhumhal,' the traditional dance, star attraction at Srinagar R-Day rehearsal
Submitted by Mohit Joshi on Fri, 01/25/2008 - 00:24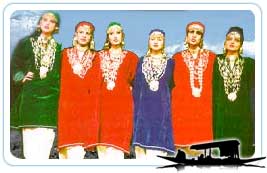 Srinagar, Jan 24 : 'Dumhal', the traditional folk dance of Jammu and Kashmir, was a star attraction at the dress rehearsal of the Republic day at Bakshi stadium here today.
'Dumhal' is a devotional dance form, which is performed on special occasions by men of Kashmir's Wattal tribe to invoke divine blessings.
"This dance form is being performed since centuries. 'Dumhal' is performed on special occasions and people enjoy this dance immensely," said Mohammad Shafi, a 'Dumhal' performer.
The performers wear long colourful robes and tall conical caps studded with beads and shells. The dance party moves in a procession carrying a banner in a very ceremonial fashion.
Traditionally, people invited professional performers to exhibit 'Dumhal' to seek divine blessing.
"Dhumal was staged at times of drought or when somebody fell ill. Childless couples invited the performers to stage the 'Dumhal' dance and sought the blessings of God. It is believed that wishes expressed to God through this dance get fulfilled," said Mohammad Yosuf, a 'Dumhal' performer.
According to a legend, the custom of 'Dumhal' was started by Shah Sukar Salani, a disciple of Sufi saint Baba Nasim-U-Din-Gazi. Salani had told the saint that he would beat a drum and perform 'Dumhal' to remember him when he has left the worldly abode.
'Dumhal' has been in vogue for the past 1400 years in Kashmir and this folk dance is fast becoming extinct, as most youngsters tend to neglect it. (ANI)