Donors gather in Brussels to pledge funds for Somalia security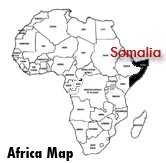 Brussels - Politicians and donors from around the world gathered in Brussels on Thursday for a conference aimed at raising funds to boost security in Somalia and crack down on the epidemic of piracy in the country's waters.
The Horn of Africa country is widely-regarded as a "failed state", and one of the most dangerous places on earth, with warring militias exerting more power than central government.
"Restoring security and stability in Somalia is vital to the success of its reconciliation effort and for the survival of its unity government," United Nations Secretary General Ban Ki-moon said ahead of the conference.
Ban was to co-chair the meeting with African Union Chairman Jean Ping. It was hosted by the European Union's executive, the European Commission.
"If we only treat the symptoms - piracy at sea - but not the deep causes, the decay of the state and poverty, we will fail," commission chief Jose Manuel Barroso said.
The leaders were set to be joined by Somalia's President Sheikh Sharif Sheikh Ahmed and the secretaries general of the League of Arab States and the Organization of the Islamic Conference, Amr Moussa and Ekmeleddin Ihsanoglu.
The conference follows a UN plea for some 127 million euros (165 million dollars) to support the African Union's peacekeeping mission in Somalia and Somalia's own security and police forces, together with some 35 million euros' worth of peacekeeping equipment.
On Wednesday, the commission - the EU's executive - promised to offer at least 60 million euros towards that final goal.
The conference comes just two days after world piracy watchdog the International Maritime Bureau reported that pirate attacks launched from Somalia in the first three months of this year had increased tenfold compared with the same period in 2008.
In recent months, both the EU and NATO have sent flotillas of warships to Somali waters in a bid to protect aid convoys and merchant shipping passing through the Gulf of Aden.
However, diplomats and military commanders agree that the only way to solve the problem of piracy at sea will be to stabilize Somalia on land by rebuilding its law-enforcement system after almost two decades of anarchy. (dpa)