Former DGP, S.S. Virk Gets Hyper After Arrest
New Delhi: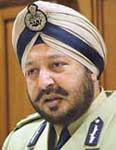 Sunday was the nightmare for the former DGP Punjab, S.S. Virk, who was nabbed on Sunday by the Punjab Vigilance at Maharashtra Sadan for allegedly amassing assets disproportionate to his income sources.
Virk, said to be the close associate of the former CM Punjab, Capt Amrinder Singh, was arrested under the Prevention of Corruption Act. The corruption case was registered against the former DGP on Saturday following preliminary investigations.
According to the sources, the Delhi police was not formally informed about the operation. After arrest, the Punjab VB team immediately brought Mr. Virk to Punjab to produce him in a court in Mohali.
Virk, who has also been accused of running private businesses, is a Maharashtra cadre IPS officer. He was removed from the post of DGP before the Assembly elections earlier this year.
Sources reported that Virk was hospitalized in Mohali hours after he was arrested. The doctors examining Virk in the Civil Hospital found the top cop's blood pressure high and surmised that there is stone in his gall bladder. The Senior Medical Officer S.M. Sarang reported that the former DGP would spend the night in hospital.