Germany provides 775,000 dollars in aid to Myanmar after cyclone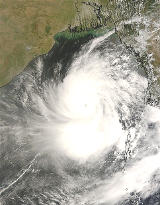 Berlin  - The German government is to provide 500,000 euros (775,000 dollars) to the people of Myanmar hit by the recent cyclone, channelling the funds through German aid organizations, the Foreign Ministry announced in Berlin Monday.
Foreign Minister Frank-Walter Steinmeier appealed to the military government to facilitate an effective assistance operation and to cooperate with international aid organizations.
Cyclone Nargis had struck a further blow to the long-suffering people of the country, Steinmeier said, expressing his condolences to the families of those killed.
Myanmar's largest city, Yangon, was without electricity and water Monday after Nargis struck over the weekend, leaving thousands dead and causing untold damage to the fragile infrastructure and food supply.
Thousands were reported to be homeless and many injured.
The German Foreign Office said the funds were intended to provide emergency accommodation, drinking water, household utensils and mosquito nets.
The German government was continuing its efforts, with its partners, to pressure the Myanmar government to take steps towards national reconciliation and to improve its human rights record, the ministry said.
The European Union has imposed sanctions on Myanmar on account of the critical human rights situation in the country. (dpa)