Gold prices slip to roughly one-&-a-half-month low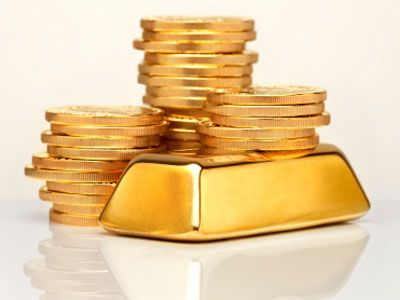 Prices of gold hit roughly one-&-a-half-month low at the domestic bullion market on Wednesday, prompting many to predict that the yellow metal's bull-run will soon over.
Price of standard gold (99.5 per cent purity) slipped by Rs 635 per 10 grams to close trading at Rs 30,540 per 10 grams, from Tuesday's closing level of Rs 31,175 per 10 grams.
Price of pure gold (99.9 per cent purity) dropped by Rs 630, from Rs 31,300 per 10 grams on Tuesday to close at Rs 30,670 per 10 grams on Wednesday.
Frantic speculative selling pressure also dragged silver prices down. Silver ready (.999 fineness) shed Rs 1,625 per kilograms to close at Rs 60,170, from Tuesday's closing of Rs 61,795 per kilograms.
Commenting on the price falls, a dealer said, "A severe variation is going on in global market due to the precious metals losing their safe haven appeal amid a slew of positive economic news as well as progress over talks to avert so called US fiscal cliff."
However, the dealer added that the domestic gold & silver market might see correction in prices amid ongoing wedding season.
In New York, gold prices for February delivery slipped $ 27.50 to $ 1,670.70 per ounce on NYMEX's Comex division. Silver price for March contract dropped 61 cents to $31.67 per ounce.
Strong dollar amid increase in US home-builder confidence, progress in fiscal discussions and credit-rating improvement for Greece are being held responsible for declines in gold and silver prices in the US.