Govt. has nothing to do with Vaidik's meet with Hafiz Saeed, says Sushma Swaraj
Submitted by Hardeep Sidhu on Tue, 07/15/2014 - 18:46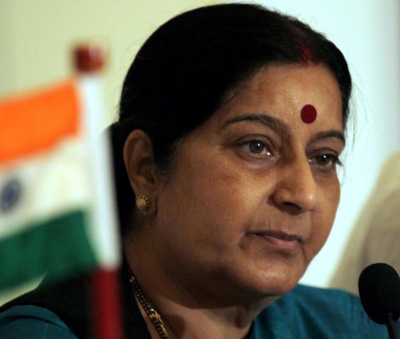 New Delhi, July 15 : External Affairs Minister Sushma Swaraj said here on Tuesday that the government has nothing to with senior journalist Ved Pratap Vaidik's meet with 26/11 mastermind Hafiz Saeed.
"Categorically and unequivocally I would like to state, that the government has nothing to do with Mr. Vaidik's meet with Hafiz Saeed," said Swaraj in Lok Sabha.
The statement came amidst discussion in the lower house, over the controversy looming around Vaidik's meeting with Saeed on July 2 in Lahore Pakistan after his pictures with the Pakistani Islamist leader emerged on social media..
Vaidik has been facing criticism from the opposition over his meet although he had openly accepted it and said that he is ready to share all records of his meetings in Pakistan.
Not only the meeting but his interview to the Pakistani media where he talked about making Kashmir an independent country, has also fueled criticism. However, he later clarified to ANI that he was talking about giving freedom to the people of Kashmir and not about separation of the region from India. (ANI)
Technology Sector