Govt. offers HCL shares at 71% discount to market rate
Submitted by Neeta Aurora on Fri, 11/23/2012 - 15:28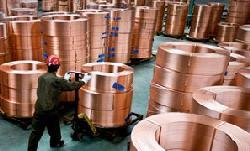 The Union Government on Thursday set a base price of Rs 155 per share for sale of its stake in Hindustan Copper Limited (HCL). The base price for the maiden disinvestment in the current financial year represents a discount of 71 per cent to market rate, which clearly shows the government's intension to woo more and more investors.
In a filing with the Bombay Stock Exchange (BSE), the state-run copper producer said, "Government of India has informed BSE that the floor price for the sale shall be... Rs 155 per equity share of Hindustan Copper."
The government, which currently holds 99.59 per cent stake in HCL, will offload 4 per cent stake in the public sector metal producer. To begin with, the government had plans to sell 9.59 per cent stake in HCL, but the weak market conditions prompted it to split the sale into two tranches.
The recently approved first part of the stake sale in the metal producer will start at 9.15 am on Friday, November 23, and close at 3.30 pm on the same day.
The 4 per cent stake sale, which will take place via the auction route, is expected to generate up to Rs 900 crore to cash-strapped exchequer.
HCL is the first public sector company in which the government is offloading its stake. The Union Cabinet has approved disinvestment proposals for OIL, Nalco, BHEL, MMTC, NMDC, SAIL and RINL; and announcements for stake sales in these companies can emerge soon.
The government aims pocket nearly Rs 30,000 crore from its disinvestment programme before the end of current financial year.