GSAT-16 launch deferred for second time due to bad weather
Submitted by Nitesh Prasad on Sat, 12/06/2014 - 14:46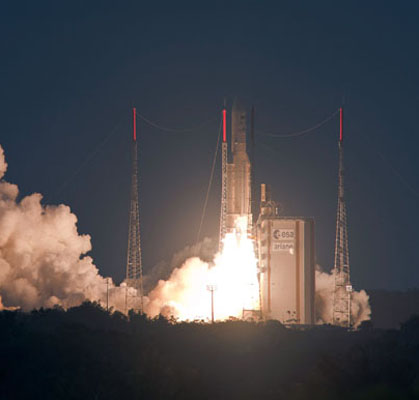 Bengaluru - Hit by inclement weather, the launch of India's latest communication satellite GSAT-16 was deferred for the second time after it was rescheduled to be put into space in the early hours tomorrow by Ariane 5 rocket from the space port of Kourou in French Guiana.
After the satellite launch originally scheduled for today was put off, Indian Space Research Organisation had announced that the lift-off would be at 02.09 AM (IST) on Saturday but within hours said it had been postponed again, citing the inclement weather at the launch base.
Ariane 5 VA221 is to place in orbit GSAT-16 which is designed to augment the national space capacity in communication services, along with DIRECTV-14, built by SSL (Space Systems/Loral) for operator DIRECTV to provide direct-to-home television broadcasts across the US.
"GSAT-16 launch rescheduled on early morning of December 6, 2014 at 02:09 hrs (IST) is postponed due to inclement weather conditions at French Guiana," ISRO said on its website.
ISRO had announced last night that due to bad weather, the launch of GSAT-16 on board Ariane 5 VA221 which was scheduled for 02.08 am today (IST) had been deferred to a later date.
Arianespace said "Due to the unfavourable weather conditions (high altitude winds) over the launch pad in Kourou, it was decided to postpone the launch of Arianespace Flight 221.
"Another launch date will be decided depending on the evolution of the weather conditions in Kourou," the launch agency said in a post on its website.
With a lift-off mass of 3,181 kg, GSAT-16 is configured to carry a total of 48 communication transponders, the largest by a communication satellite developed by the ISRO so far.
Facing capacity crunch, ISRO has leased 95 transponders on foreign satellites mainly for private TV broadcasters's use.
The satellite will boost public and private TV and radio services, large-scale Internet and telephone operations.
GSAT-16, which would replace INSAT-3E, decommissioned prematurely in April, has a designated on orbit operational life of 12 years. It will be the 18th satellite to be launched by Arianespace for ISRO.
The satellite will also boost public and private TV and radio services, large-scale Internet and telephone operations, as it improves the national space capacity with the 48 transponders joining 180 odd existing transponders with ISRO.
India's rockets PSLV and the present GSLV do not have the capability to launch satellites of more than two tonne class, prompting ISRO to opt for an outside launch.
ISRO is developing the next big launcher, GSLV-MkIII, which can put satellites of up to 4 tonnes in orbit. (PTI)
Technology Sector