Harsh Vardhan requests CMs for action on AIIMS projects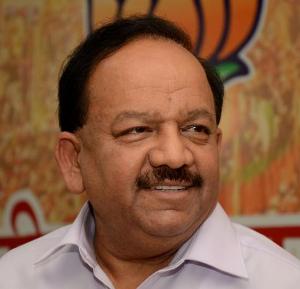 New Delhi, June 1 - Union Health and Family Welfare Minister, Dr Harsh Vardhan, has decided to request the chief ministers of all states for their cooperation to set up super-speciality hospitals modelled on All India Institute of Medical Sciences (AIIMS) in their states.
In the first phase, six AIIMS have come up at Bhopal, Bhubaneswar, Jodhpur, Patna, Raipur and Rishikesh. They have all begun partial operations in giving tertiary health care as well as quality under-graduate and post-graduate medical education.
Dr Harsh Vardhan reviewed the progress of implementation of the new AIIMS projects with their Directors on Friday. The meeting, which lasted about three hours, was marked by a free exchange of views on the status of the project with respect to their construction and civil works, procurement of equipment, and recruitment of faculty and doctors.
Stressing that he was prepared to take radical steps to ensure timely implementation of the six ongoing AIIMS project, he asked the directors to submit within a week detailed status reports.
Their reports would have the benefit of guiding the Ministry's officials in the future implementation of new AIIMS projects.
He assured the Directors that if necessary he would speak to the concerned Chief Ministers on ways to remove bottlenecks to speedy completion. Most importantly, the Health Minister offered to increase their powers to take on-the-spot decisions to address situations on the field to avoid bureaucratic delays.
The Health Minister has directed the Ministry's officers to establish schools of public health in all the six new AIIMS. Presently, the International School of Public Health is functional only in AIIMS-Jodhpur and AIIMS-Raipur in partnership with Harvard School of Public Health.
Dr Harsh Vardhan said the Centre would consider having more AIIMS projects if the chief ministers show interest. In this connection he mentioned that in 2013, the West Bengal government in 2013 had expressed its inability to acquire land for a project to have an AIIMS in Raigunj which was earlier approved.
However, subsequently Chief Minister Mamata Banerjee had suggested that it would be better if an AIIMS was established at either Siliguri or in Coochbehar. Dr Harsh Vardhan said he would be happy to review the suggestion.
"Land acquisition should not be a problem for a hospital because it is for a public purpose. Moreover it would be a government-run free facility and no private company would make profits. So I would request all chief ministers to avail this opportunity," the Minister said.
AIIMS, apart from bridging the yawning gap between hospital beds and demand for them (less than 1 per 1,000 population) could also develop more doctors and paramedics. The doctor-population ratio in India is at present 1 to 1,800 whereas World Health Organisation has stipulated a minimum of 1 to 1,100. (ANI)