Haryana polls: Shun families that have monopolised political power, says Modi
Submitted by Hardeep Sidhu on Sat, 10/11/2014 - 21:45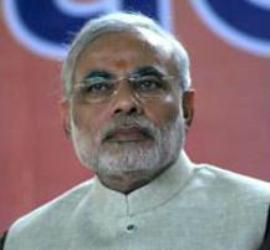 Jind/Sirsa: Sharpening his attack on dynastic politics, Prime Minister Narendra Modi on Saturday asked the people to shun the "families" that have monopolised power in Haryana by forging "behind-the-scene alliances" for past
25 years and were propagating "goondashahi".
"People of Haryana will not forgive the looters of Haryana. Five families have ruled the state for last 25 years. Here, they have forged behind-the scene alliances ahead of elections. They have decided amongst themselves that they will loot the state by turns," he said addressing rallies in Haryana ahead of October 15 polls.
Modi said these families gave the semblance of opposing each other in public, but actually had a cosy arrangement of alternate periods of rule. "Haryana needs freedom from the rule of these families," the Prime Minister said.
"They have an agreement that one family will rule for five years while the other family will badmouth the ruling family. In the next elections, other family comes to the power and circle goes on. You have to save Haryana from these 'goondashahi' (reign of anti-social elements) and dynastic politics," Modi said at the rally in Sira.
He said that time has come "to bring an end to this game... People of the state have decided to throw them out and punish them for their deeds."
Modi said the state various parts of the state have suffered due to political rivalry and assured the people of even development across the state. He claimed that the support of the people was taken for granted and their aspirations from successive regimes ignored.
"Embrace us once and I will ensure development of the entire state.... What does a farmer want - water and power - and he will convert his fields into gold mines," he said in Jind.
Modi said despite projections by some that Haryana will have a hung assembly he believes that BJP will get a full majority going by the response of people to his rallies.
Referring to his "Make in India" campaign, the Prime
Minister said during his visits abroad, many countries have promised huge investments in India and made a strong pitch for development-oriented politics.
"Thousands of crores (of rupees in investments) are coming into India from abroad. Development is the panacea of all ills. We want development of all of Haryana and not just one region," he said.
Highlighting the law and order situation in the state, Modi said he will ensure security for women. He also talked about the skewed sex ratio in the state and said it needs to be set right.
Referring to one-rank one-pension issue, Modi said as promised his government has successfully implemented the scheme.
"There is no battle in which youth of Haryana have not sacrificed their life. There was this issue of one-rank one- pension. But when we came to power, we decided in this regard and made provisions for the same and fulfilled the promise," he said.
He stated that a positive trend was coming out from poll surveys.
"All poll surveys and analysis have said BJP will either be the number one party in Haryana or will get majority. It is for sure that the next government will be of the BJP but it is you who has to decide whether you want full majority BJP government," the PM said.
Talking about "political pundits" predicting that it will be a hung assembly with BJP emerging as the single largest party, he said, "But going by the response of the people to the rallies, including today's, I can assure them that BJP will get a full majority. This strength at today's rally ensures the victory of the people of the state."
In Sisa, Modi said, "Five families have run Haryana until now and it has only benefited these families. Look at the coalition... They fight in front of people like WWF". --- PTI
Technology Sector