High On Fuel, Tata Steel Rolls Down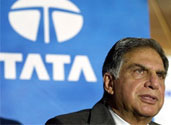 Shares of India's top private steel maker, Tata Steel had recovered from an early 3.3% decrease and was down just 0.71% to Rs 647.90 at 15:01 IST after it signed up an agreement with Australian firm Riversdale to get hold of a 35% stake in its Mozambique coal project.
On Bombay Stock Exchange, 5.11 lakh shares of the scrip were traded on the counter today. In the last three months, the average daily volume of the scrip stood at 8.98 lakh shares.
It hit a high of Rs 654.35 and a low of Rs 630 thus far during the day. It climbed 3.92% within the last one month to 3 August 2007 as against the Sensex's return of 1.86%.
The scrip turned down 13.33% from a new high of Rs 721.10 on 24 July 2007 to Rs 622.40 on 1 August 2007 on weak worldwide markets. It climbed up to Rs 651.70 on 3 August 2007.
On Friday, 3 August 2007, Tata Steel signed an agreement with an Australian business firm Riversdale to acquire a 35% stake in its Mozambique coal project for 100 million Australian dollars (about Rs 345 crore). The Mozambique coal project consists of the coal tenement houses of premium hard coking coal in Benga and Tete, situated in the Tete province in Mozambique.
Tata Steel alleged that the hard coking coal obtained from this project will be supplied to the Corus facilities in the UK and Europe and to the company's superior requirement in India in the future.
In the meantime, the world's sixth-largest steel maker is also keen on purchasing Colombia's steel making company Siderurgica Nacional (Sidenal) to register its presence in Latin America.