India, Malawi strengthen bilateral cooperation through three new pacts
Submitted by Ashok Dixit on Sat, 01/09/2010 - 13:48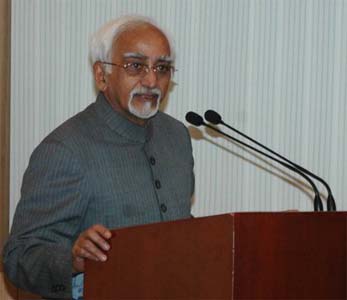 Lilongwe (Malawi), Jan. 9 : India and Malawi today inked three agreements to strengthen bilateral cooperation in key areas of interaction.
The agreement signing ceremony, which was witnessed by visiting Indian Vice-President Mohammad Hamid Ansari and his Malawian counterpart Joyce Banda, saw both parties signing a Protocol for Consultations between the Ministry of Foreign Affairs of the Republic of Malawi and the Ministry of External Affairs of the Republic of India in order to further strengthen diplomatic relations between the two countries.
The two parties also signed a Memorandum of Understanding (MoU) on cooperation in the field of agriculture and allied sectors. The MoU focuses on various areas, including agriculture research; agricultural extension management; agricultural marketing, horticulture; animal husbandry and dairy; watershed development; agricultural implements and machinery and agro-processing.
Both parties also signed an agreement between National Small Industries Corporation of India and One Village One Product of Malawi for mutual cooperation for the development of small enterprises in Malawi.
The agreements were signed by India''s High Commissioner to Malawi, Mr. Ashok Kumar, Malawi''s High Commissioner to India, Mr. Brian Bowler, Dr. H. P. Kumar, Chairman and Managing Director of the National Small Industries Corporation (NSIC) and a woman minister of the Malawian Government. Ambassador Kumar signed two of the three agreements.
Both governments also agreed to expedite negotiations to finalize proposed Memoranda of Understanding on mineral resources; exemption of visas for holders of official and diplomatic passports; rural development and health and medicine.
The two Parties agreed to sign the remaining MoUs during the next high level visit and to establish a joint implementation and monitoring mechanism to ensure expeditious implementation of decisions of the agreements and Memoranda of Understanding (MoU) and decisions of the bilateral talks.
Apart from the signing of the bilateral agreements, Vice-President Ansari visited the Civic Offices in Lilongwe where he signed the Visitors Book. Malawi and India held bilateral talks on January 8 at the Capital Hotel in Lilongwe.
The Malawi delegation was led by Vice-President Joyce Banda, while the Indian delegation was led by Vice-President Mohammad Hamid Ansari.
Ansari announced the grant of USD one million as emergency relief for rehabilitation following the series of earthquakes that caused loss of life and property in Karonga District of Malawi. He also announced USD four million in grants to support Malawi''s development in agriculture, health and education sectors.
Ansari expressed his happiness that the Indian Line of Credit of USD 30 million extended to Malawi in 2008 for irrigation, grain storage and tobacco thrashing projects has been utilized. He also announced a new Line of Credit of USD 50 million to Malawi in support of its development goals.
Malawi thanked India for its development assistance made available, mainly through the EXIM BANK, Indian Technical and Economic Cooperation Programme, and the Commonwealth African Assistance Plan.
Malawi also expressed satisfaction with the granting of duty free access to India, on various products within the framework of the Duty Free Tariff Preference Scheme for Least Developed Countries, announced at the India-Africa Forum Summit, held in New Delhi, in 2008.
The new agreements are expected enhance and re-energise the partnership between the two countries, particularly in areas of trade and commerce.(ANI)