India set to resume train service to Bangladesh
Submitted by Mohit Joshi on Sat, 04/12/2008 - 16:38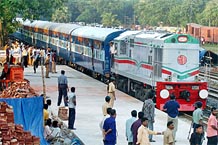 Kolkata, Apr 12: A passenger train service between India and Bangladesh, which was suspended for more than four decades, is all set to resume operations on April 14.
The 'Moitree Express' is scheduled to be flagged off on Monday morning by External Affairs Minister Pranab Mukherjee.
Passengers feel that the fares have been reasonably fixed at eight dollars, 12 dolars and 20 dollars for non-AC, Chair Car and AC Ist Class respectively during the 500 km journey.
"It would be really comfortable when the train service actually starts. It will be very good for us. The fare is also reasonable," said Tariq Hassan, a passenger.
The train will run between Dhaka Cantonment and Chitpur in Kolkata through the Darshana border once a week from both sides. A train each will leave Dhaka and Kolkata on Saturdays and start the return journey on Sundays.
"It will run from Kolkata to Ghede, which is the last station on the Indian border. After Ghede, where security, customs and immigration checks will be completed by officers, it will run to Bangladesh and stop at Dharshana station where Bangladesh will also have a similar checking system. Thereafter, it will reach Dhaka cantonment in the evening," said Sameer Goswami, Chief Public Relations Officer, Eastern Railways.
A passenger train service between Dhaka and Kolkata was introduced towards the end of the Awami League Government in July 2001. One train had run on trial basis, but the service was cancelled after the Bangladesh Nationalist Party (BNP)-led coalition came to power.
The two cities are currently connected by air and bus services. The slow train is expected to cover a distance of 345 kilometres between Dhaka and Kolkata in 12 hours.
The train service between India and Bangladesh was suspended during the 1965 war between India and Pakistan, when Bangladesh was a part of Pakistan, and was referred to as East Pakistan. (ANI)