'It Hurts Me To See Kareena With Saif' - Shahid
Submitted by Ashok Rao on Tue, 10/23/2007 - 19:49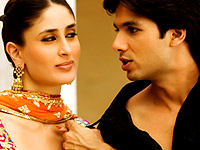 Former boyfriend of Kareena Kapoor 'n' Bollywood celebrity, Shahid Kapur is feeling jealous of his break-up with Kareena Kapoor.
He said, he is trying to put up, but he feels pain over the end of his love relationship with Kareena.
In an interview, Shahid said that their three-year link had finished and she was getting around with someone else.
Shahid said, "Yes, I'm single- Yes, it hurts- Yes, I will fall in love again!"
He told that it disturbs him to see photographs of Kapoor with her new flame, famous star Saif Ali Khan.
He said, "It will be dishonest to say that this doesn't affect me. I am human, it hurts to see and read this all the time. I guess I have no choice but to live and deal with it."
Shahid stated that he wants Kareena's happiness and is trying to move on.
"I hold nothing against anybody. If I do, it will pull me down and I'm not like that," said Shahid. "I'll cherish the good memories of that relationship and move on. That's what I'm doing — looking at the positive side and trying to be happy."
He has worked in 10 movies, mostly romantic films, since his debut in 2003. His movie about arranged marriages "Vivaah" — or "Marriage" — last year was a box office hit.
He works with Kareena Kapoor in a new love story, which will hit the screens this week, titled "Jab We Met" — or "When We Met."