Jai Parabolic Springs Advances On Merger Approval
Submitted by Hina Deshpande on Wed, 06/27/2007 - 12:19
Jai Parabolic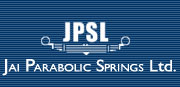 Springs Ltd. climbed up by its maximum daily limit of 5 percent to 29.50 rupees as the board okayed its merger deal with Jamna Auto Industries. The company made the declaration in trading hours. The scrip had touched its intraday low of Rs 28 during the day.
Today, about 16,712 shares were traded in the scrip. In the past one quarter, the stock had an average daily volume of 11,212 shares. At its existing price of Rs 29.50, the scrip trades at a PE multiple of 10.13, based on year ended March 2007 EPS of Rs 2.91.
On 7 December 2006, the stock had hit its 52-week high of Rs 57.15 and a 52-week low of Rs 25.50 on 12 June 2007.
Jamna Auto Industries and Jai Parabolic Springs are part of Jamna Group. Jamna Auto makes auto parts and specializes in making laminated springs for automobiles. The Jamna Auto scrip dangled 4.56% in one month to 26 June 2007 as against Sensex's 0.72% advancement. In past three months, it had descended 2.22% against Sensex's 12.55% advancement.
According to the swap ratio, one share of Jamna Auto will be issued for every two shares held in Jai Parabolic.
In Q4 March 2007, Jai Parabolic' net earning soared up 12,200% to Rs 2.46 crore from Rs 0.02 crore. Sales lifted 1.9% to Rs 23.79 crore in Q4 March 2007.
Jai Parabolic constructs parabolic and tapered leaf springs. It is the only supplier of these springs to Maruti Udyog, Bajaj Tempo, Eicher Motors, DCM Toyota, Swaraj Mazda, Mahindra Nissan, Allwyn and Tata Motors.
Technology Sector