Jaitley Phone tapping row: Amar Singh demands detailed probe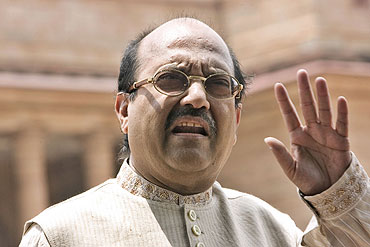 New Delhi, Feb 23 : Rajya Sabha MP Amar Singh on Saturday demanded a thorough investigation into senior Bharatiya Janata Party (BJP) leader Arun Jaitley's phone tapping issue after reports emerged that the person arrested in connection with this case was one of those accused of tapping his phone in 2005.
"People were saying that Amar Singh is controversial. Now, can anyone say that Arun Jaitley is controversial too? Who is behind such controversies? Who are the people behind Anurag Singh, I again reiterate my demand that there should be an inquiry so that it is clear as to who are responsible for making Anurag Singh tap the phones, be it mine or that of my friend Arun Jaitley," he told ANI.
Earlier on Tuesday this week, the Delhi Police arrested Anurag Singh, a doctor-turned-private detective, who runs V-Detect Private Detective Agency here and believed to be the mastermind behind trying to acquire Jaitley's call details.
Anurag Singh is also one of the main accused of tapping the phone of former Samajwadi Party leader Amar Singh.
A Delhi Police constable, Arvind Dabas, and another detective, Neeraj are already in police custody for their alleged role in trying to obtain Jaitley's call details. (ANI)