James Franco to be Samsung's Galaxy Note 10.1 spokesman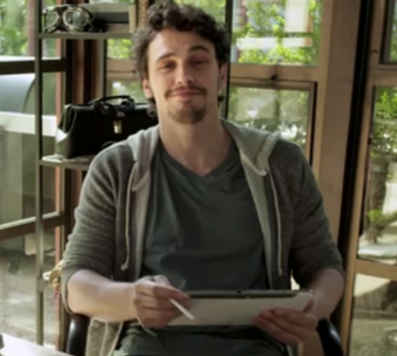 In an evident attempt to draw attention to the `multi-tasking' capabilities of its earlier this month-launched Galaxy Note 10.1, Samsung has decided to hand over the responsibilities as the tablet's spokesman to a man of many talents --- James Franco.
Franco apparently was the best man to take on the role of Samsung's spokesman for the Galaxy Note 10.1 because he is an actor, director, and short story writer all rolled into one, as well as a Ph. D. candidate for Yale's English program!
Samsung's new TV commercial for the Galaxy Note 10.1 features Franco - who also probably directed the ad - walking around his house with the new tablet, which he uses for looking up information; jotting down messages with the S pen stylus; and checking out its other features.
Samsung's decision to appoint Franco as the Galaxy Note 10.1 spokesman also apparently has something to do with the fact that Apple's summer-launched Siri ad featured celebrity spokespersons, like actors Samuel Jackson, Zooey Deschanel, and John Malkovich, and director Martin Scorsese.
The Galaxy Note 10.1 is Samsung's potential challenger to the Apple iPad; with some of the most compelling features of the new Samsung tablet being a 10.1-inch display; 1.4GHz quad-core processor; and Android version 4.0 `Ice Cream Sandwich.'
In addition, the Galaxy Note 10.1 also comes with Samsung's S Pen stylus, which enables the users to "write" all over the screen. The tablet is currently available with a Wi-Fi option; but a `Wi-Fi plus LTE' option is likely to be released later this year.