Jet Airways shares rise on indications of Etihad deal
Submitted by Neeta Aurora on Tue, 12/04/2012 - 23:01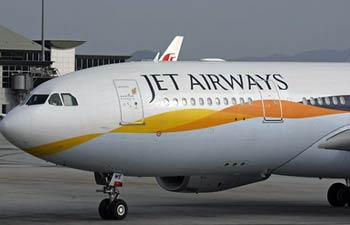 The shares of India's second largest carrier, Jet Airways have risen after reports suggested that the airline is nearing a deal with Etihad Airways.
Shares of the company were trading 4.34 per cent higher at Rs. 580 on Tuesday morning. The shares have touched a high of Rs. 590 earlier on Bombay Stock Exchange (BSE). A media report in Mumbai suggested that Jet would approach the Foreign Investment Promotion Board (FIPB) for permission to allow an equity investment by Etihad.
James Hogan, the Chief Executive Officer of national airline of the United Arab Emirates (UAE) said that the company is looking to have a presence in the Indian market. He did not mention Jet Airways n his remarks but it is believed that Etihad might be looking for a minority stake in the airline.
The central government in India has given a go ahead to investments by foreign aviation firms in Indain carriers. Airlines in the country are facing a low level of liquidity and have asked the government to speed up reforms in order to allow foreign airlines to invest in domestic aviation firms. The Indian aviation firms are struggling with high cost of fuel as well as airport and other taxes, which are among the highest in the world.