Karunanidhi supports Pranab as President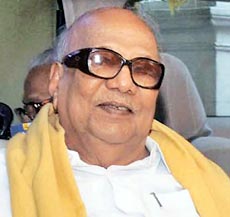 DMK chief M Karunanidhi has said that he and his party supports Finance Minister Pranab Mukherjee's candidature for the post of the next president of India, a move that will boost Congress's plan to gather support for his post.
Karunanidhi has said that he would back the candidate proposed by the UPA coalition. But he also said that there has been no discussion on the presidential candidate. The DMK leader heads a party that is a key part in the UPA-led government at the Centre.
The DMK has 18 Lok Sabha MPs, 7 Rajya Sabha MPs and 23 MLAs and its support will be required by the congress to put forth any candidate. Congress is aiming to gather support for probable candidates including Finance Pranab Mukherjee and Vice President Hamid Ansari from its allies.
The BJP, meanwhile, has said that it will oppose any candidate proposed by the Congress. Congress has not announced any names officially and is now concentrating on gathering support. The Congress-led United Progressive Alliance (UPA) controls more than 40 per cent of het voting power for the selection of the president of the country.
On the other hand, the BJP-led National Democratic Alliance (NDA) has less than 30 percent and thus no single group can elect the president on is own. Smaller parties are likely to pay a key role in the unfolding political drama.