Kobe, Shaq reunite to share All-Star MVP honours
Submitted by Sahil Nagpal on Mon, 02/16/2009 - 17:08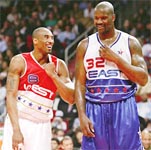 Phoenix, Arizona  - They argue and snub each other, and for years, there has been no love lost between the former Los Angeles Lakers teammates Kobe Bryant and Shaquille O'Neal. But one thing is certain: When the two play together, good things happen.
The occasional friends and adversaries shared the most valuable player trophy Sunday night after their West squad clobbered the East 146-119 to win the National Basketball Association's annual All-Star Game at the US Airways Center.
Bryant, who still guides the Lakers, had a game-high 27 points in 29 minutes while the Phoenix Suns' O'Neal added 17 in 11 minutes.
They put on a show, Shaq engaging in a pantomime dance during pre-game introductions and Bryant lacing the twines with 12-for-23 shooting from the field, including
3-for-8 from beyond the three-point stripe.
And as NBA commissioner David Stern presented the trophy to the two players at centre court after the game, they playfully tugged on it.
"He has been the best player in the league, so I'll give him an A plus from that side and A plus for being a great guy," O'Neal said in a tag-team media conference with Bryant afterward. "He even let me take the trophy home today for my boys, so I appreciate him for that."
It was the third All-Star MVP award for each player, tying them with Michael Jordan for the most in history.
Bryant's have all come since 2002, and in the past four years, he's swapped the trophy every other year with Cleveland's Lebron James, who took it home in 2006 and
2008.
O'Neal won in 2004 when the game was played in Los Angeles, and he and Bryant were still with the Lakers. The other was also a co-share in 2000 with San Antonio's Tim Duncan.
To add another dash of drama to the mix, Phil Jackson, the coach of the Lakers now and back then, led the West to victory Sunday in the first game in which all three were on the same side since a rift developed between Bryant and O'Neal and Shaq demanded to be traded to Miami after the 2003-04 season.
"The sub story was Shaq and Kobe," Jackson said. "That's what you guys were interested in. It's a great life lesson for people. People find a way to get through situations, find harmony in their life and find co-habitation. I will just say they had a fun time."
They always did. With the pair complementing each other, the Lakers won three NBA titles in a row from 2000 to 2002.
O'Neal won another with the Heat in 2006 before moving to the sagging Suns, who reportedly are about to replace their coach, Terry Porter, with assistant Alvin Gentry.
Bryant, whose Lakers lost in the finals last year to the Celtics, said that Sunday night's reunion was not a nostalgic journey for him.
"We're not going to go back to the room and watch [the movie] Steel Magnolias or anything," Bryant said. "You know what I'm saying? Crying and all of that stuff. [Nostalgia] is perfectly fine. Nothing wrong with being nostalgic. It's not necessarily my cup of tea."
O'Neal, who was traded back into the Western Conference last season, was a little more sentimental.
"It was like old times," he said. "I miss those times."
Particularly when the pair teamed up for a four-minute, nine-second, sequence in the third quarter during which Bryant fed O'Neal for two baskets, including one of their patented pick and rolls. Bryant also added a driving reverse layup.
"We ran a couple of things for them in the second half," Jackson said. "Shaq got going. That's the first time I've seen an MVP that played 11 minutes in an All-Star Game. He really had an impact. There's no doubt about it. But the impact was short-spelled and strongly felt." (dpa)