Lakshmi Mittal is Special Sits loser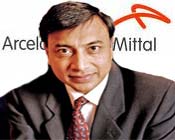 London, Sept. 11 : Indian-born billionaire businessman Lakshmi Mittal is sitting on a big paper loss.
With a net worth estimated by Forbes magazine to be 45 billion dollars, the 48 per cent slump in the RAB Special Sits fund this year and the 66 per cent fall in the RAB share price, will not make much of a dent in his finances, but will trouble him nonetheless.
The most valuable asset in Mittal's investment portfolio is his 43 per cent stake in ArcelorMittal. Although the stock has fallen more than 36 per cent from its June high, the shares are still worth some €26.5bn (£21bn).
Other equity holdings include a 50 per cent stake in Caspian Investment Resources, a Kazakhstan oil group that one of Mittal's investment vehicles acquired in 2006 for 980 million dollars, as well as a 17 per cent stake in Platmin, the London- and Toronto-listed platinum miner, worth 57 million pounds at current market prices.
Last December, Mittal joined the ranks of billionaire football club owners after snapping up a 20 per cent stake in Queens Park Rangers, though the Championship club finished a dismal 14 out of 24 in the second tier division last season.
According to the Financial Times, Mittal is no stranger to conspicuous consumption.
His residence at Kensington Palace Gardens was bought from Formula One boss Bernie Ecclestone in 2004 for 57 million pounds, making it the world's most expensive house at that time.
Since then, he is reported to have bought two other major properties in London, one for 117 million pounds and the other for 70million pounds.
In June 2004, he reportedly spent 34 million pounds on his daughter Vanisha's wedding to investment banker Amit Bhatia. The wine tab alone was estimated at 1.5 million pounds. (ANI)