Logitech Uncovers 'G9 Laser Mouse' To Beef Up Its G-Series
Submitted by Darpana Kutty on Tue, 12/04/2007 - 12:36
Logitech has uncovered its latest G9 Laser Mouse to beef up its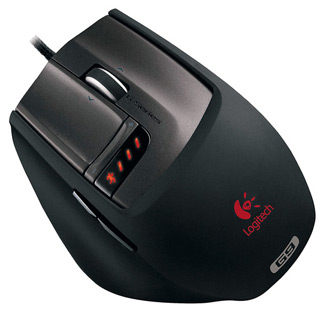 award-winning line of G-series. The PC gaming device, the G9 Laser Mouse has been modified for the best personal fit, feel, and performance.
Logitech G9 features interchangeable grips,such as Wide-Load grip and Precision grip, on-the-fly dpi that keeps switching ranging from 200 dpi to 3200 dpi. The Laser Mouse also features full-speed USB laser tracking, an onboard-memory profiling system, weight tuning, a custom-color LED and the hyper-fast MicroGear Precision Scroll Wheel.
While, the Precision grip uses DryGrip technology, offering compact shape for fingertip control and a surer handle for any hand, the Wide-Load grip, providing fuller shape and satin feel touch, is designed perfectly for long gaming sessions.
The mouse lets gamers customize weight tuning and weight distribution. The weight-tuning system facilitates gamers to choose from amongst hundreds of weight settings by inserting up to four additional weights in the mouse's weight tray. Wholly, gamers can choose from eight additional weights. The spring-loaded weight cartridge fits snugly at the bottom of the G9 mouse.
Using Logitech's SetPoint software Version 5.0, the PC gamers are able to produce a number of profiles. The gamers can take their personalized settings anywhere, eliminating the need to install SetPoint software on the gaming rig every time a gamer changes the PC. The onboard memory of the mouse ensures the user to no longer install SetPoint software whenever they change their computers. They can store up to five profiles - including specified keyboard macros, dpi settings, and LED color settings. The G9 mouse can automatically identify the saved gaming profile. The gamers can also manually control the profile setting with the use of a button that is situated at the bottom of the mouse.
Furthermore, the mouse lets the gamers to choose from a wide range of LED colors that can be linked to each on-board profile, thus coordinating the look of the mouse with their PC set-up. The mouse can be shifted up to 3200 dpi for faster, more precise cursor movements; or down to even 200 dpi for games that require pixel-precise control. Without cursor lag, the users can experience up to 1,000 reports per second for smooth tracking. They can also choose between precise click-to-click scrolling that is perfect for weapon selection or almost frictionless hyper-fast scrolling.
Logitech G9 also boasts of the MicroGear Precision Scroll Wheel, which allows gamers to choose between precise click-to-click scrolling - perfect for weapon selection, for near frictionless hyper-fast scrolling.
Priced at Rs 5,995, Logitech's G9 Laser mouse comes with a 3 years replacement warranty. It is available in the Indian market through Neoteric, Origin Marketing Pvt Ltd and Rashi Peripherals.
Technology Sector