Mahindra Aerospace To Manufacture Smaller Aircraft For Indian Market
Submitted by Shilpa Mahapatre on Mon, 06/28/2010 - 18:52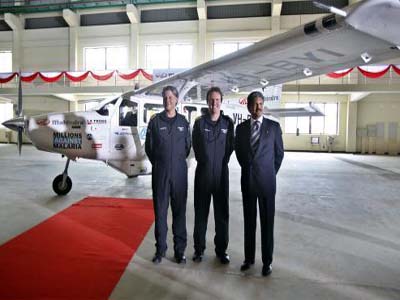 Mahindra Aerospace of the $6.3-billion utility vehicle manufacturer Mahindra Group will become the first Indian private firm to make smaller civil aircraft for the Indian general aviation market, which is ready to flourish this decade. Mahindra Board Member Hemant Luthra said, "We will manufacture the turboprop aircraft in 2-20 seat capacity at our recently acquired Gippsland Aeronautics (GA) in Victoria State of Australia and market them in India."
After completion of Mahindra Aerospace facility at Malur near Bangalore for production by 2013, the manufacturing will be shifted to India to hard-sell the multi-utility aircraft for a range of civil aviation requirements.
The 26-year-old GippsAero is a leading turboprop aircraft manufacturer for the general aviation sector and has certification in 32 countries worldwide, including the U. S. Federal Aviation Regulations (FAR 23), which testifies the highest degree of safety to fly fare-paying passengers between small and remote airfields.
Mahindra Aerospace got hold of 75.1% equity stake in GippsAero and Aerostaff Australia for $38 million in December last year jointly with Kotak Private Equity.
Aerostaff is a 20-year-old maker of aerospace components and assemblies for global aerospace original equipment manufacturers (OEMs) at Port Melbourne in Victoria state.
Around 250 smaller aircraft of GippsAero function in 34 nations. Presently, it has an order book to make approximately around 20 aircraft in the 8-10 seat capacity.
As GippsAero has IP/type certificate approvals and produced various aircraft meeting international standards, Mahindra plans to manufacture even the five-seater turboprop, jointly developed by Mahindra Plexion Ltd with the state-run National Aerospace Laboratories (NAL) here.
The prototype, codenamed NM5, is a multi-role, multi-mission civil aircraft, modelled on NAL's Hansa project.
A research carried out by A. T. Kearney for the Mahindras disclosed about $5 billion of general aviation aircraft are sold worldwide every year, with turboprops accounting for over 50 percent of the total market.
With the civil and military aircraft market set to grow exponentially, Mahindra Aerospace has decided to invest $50 million (Rs. 230 crore) in the Malur plant to expand capacity for rolling out smaller aircraft and components to tier-1 aerospace suppliers and original equipment manufacturers (OEMs).
The company plans to get its components' manufacturing facility certified first and then the assembly plant in the next 18-24 months.
The Malur plant will permit the company to manufacture components for the general aviation market, meet offset requirements of OEMs selling civil or military aircraft to India and an effective vendor to worldwide aerospace majors. (With Inputs from Agencies)