Malaysia's FBM KLCI trading lower
Submitted by Divesh Sharma on Fri, 11/16/2012 - 23:18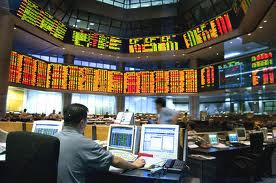 The benchmark FBM KLCI in Malaysia has fallen moderately by 4.29 points to 1,627.39 after opening at 1,634.45 during the day.
The index fell mainly due to continued pressure from international trends as investors remained concerned over the US fiscal cliff and Europe. The local sentiment was affected by continued uncertainty in the global economy.
Investors are waiting to review the impact of the Economic Transformation Programme update that is expected to be announced by Datuk Seri Mohd Najib Tun Razak, the Prime Minister of the country. The government is also expected to announce the figures for gross domestic product for the third quarter.
The Finance Index fell42.63 points to 15,006.16, Industrial Index lost 5.4 points to 2,788.82 and the Plantation Index declined 24.6 points to 7,994.55. The FBM Emas Index was 25.93 points lower at 11,121, FBMT100 fell 26.301 points to 10,958.93, FBM Mid 70 Index lost 22.58 points to 12,280.1 and the FBM Ace Index recorded a fall to 4,239.25.
Shares of 351 companies fell in the trading today compared to 185 firms that recorded gains. The volume stood at 369.69 million shares worth RM680.19 million.